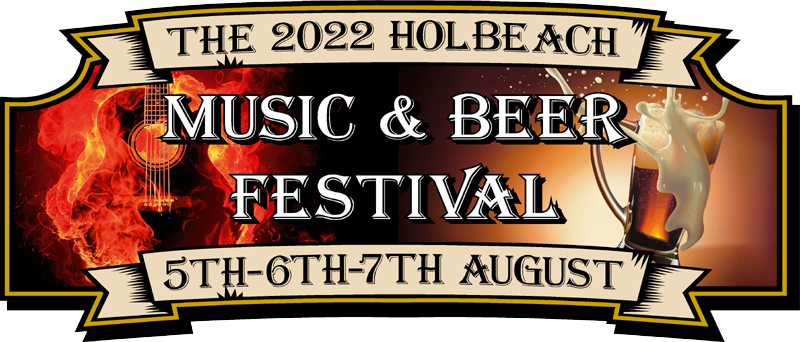 THE HOLBEACH VW CAMPER VAN & CAR SHOW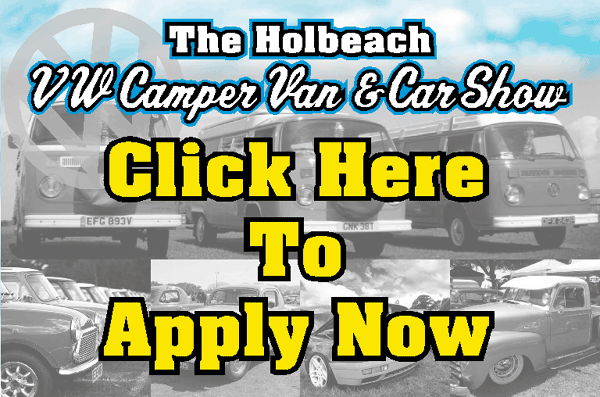 NEW VW Camper Van & Car Show coming to Holbeach...
The Holbeach Music & Beer Festival celebrates its 5th year in 2019 and we have quickly established ourselves as a well organised, respected and now one of the most popular community events in Lincolnshire.
We have always tried to deliver the very best value for money and entertainment including sourcing the best live bands, stage, production, sound crew, beers, ales, ciders, food, funfair and activities. Our goal is to keep growing the event by appealing to a wider audience and this year we are proud to announce a brand NEW exciting attraction for all guests to enjoy by introducing 'The Holbeach VW Camper Van & Car Show' to the festival.
We welcome a wide variety of vehicles including; VW Camper Vans, Retro, Classic, Historical, Modified, Kit Cars, Restoration, American and Performance Cars to the show. All accepted entrants into the show will receive Free Admission for themselves, plus possibly drive home with one of our fantastic Trophies when entered into 'The Show & Shine Competition'. We hope to bring together over 200 show cars all on display for guests of the festival and car enthusiasts to enjoy over the weekend. To compliment the car show we will have autojumble stalls and trade stands retailing a range of hard-to-find parts, accessories, merchandise, tools, manuals, paints, signs, vintage items and clothing.
Car Show Information
ONLY Pre-Booked accepted vehicles are welcome, please don't turn up on the day as you will NOT be allowed to enter our car show. We will post out window screen vehicle display passes to all successful entrants two weeks prior to the event.
Successful entrants should arrive between 09:00hrs - 11:00hrs on the day(s) you wish to attend to allow stewards time to position all vehicles safely. The car show arena opens to the public at 12:00hrs and will close at 20:00hrs daily. All accepted entrants into the car show will receive FREE single admission for themselves (NOT passengers) and given the appropriate wristband upon arrival.
Car Show Competitions
✱Friday 2nd August 'PISTONS AND PEOPLE' People's choice trophy
✱Saturday 3rd August 'TORQUE OF THE TOWN' People's choice trophy
Sunday 4th August 'SHOW & SHINE' 1st, 2nd & 3rd place trophies on offer... PLUS the chance to win the 'People's Choice Trophy' VW CAMPER VANS will have more opportunities to win a trophy with thanks to Camper Revamper's of Holbeach who are generously sponsoring the 'Best in Show in Class' with a minimum of 6 trophies up for grabs!!
✱Car Show Competitions
By attending Friday / Saturday you will automatically qualify to enter and have a chance of winning 'The People's Choice Trophy'.
FAQ
Q: Are dogs allowed?
A: NO. Unfortunately we have a strict NO ANIMAL policy and dogs are NOT allowed anywhere on site apart from assistance/guide dogs.
Q: Can I bring my own generator?
A: No, but electric hook-up is available at an extra cost.
Q: How do I book a group stand for our club?
A: Group stands for clubs are welcome be restricted to 6 show cars. The head organiser should complete the application form below with contact details and upload car club image. Please put all other vehicles details in the massage box with Make, Model & Registration number to help us plan your arrival.
Q: How do I book a stall / trade stand?
A: Autojumble stalls / trade stands are limited and will be offered on a first come first served basis upon successful application by completing the form below.
Q: How much is a Autojumble stall and what can I sell?
A: Autojumble stalls MUST ONLY SELL CAR RELATED GOODS AND ITEMS. These are priced at £50 each (for the weekend) and can be positioned next to your display vehicle, we allow a 3m x 3m space.
Q: How much is a Trade stand and what can I sell?
A: Trade stands can sell new or used items such as: clothing, trainers, key rings, novelty items, craft items, gifts, display new or used vehicles, promote your business, offer a service etc. You can NOT sell FOOD, DRINK, silly string, air horns, stink bombs, legal highs, fireworks, Chinese lanterns, laser pens or any items deemed to be anti-sociable and dangerous. We have two pitch size options:
1. Small 3 x 3m priced at £50 each (for the weekend)
2. Large 6m x 6m priced at £100 each (for the weekend)
Q: Do I need any insurance?
A: Yes we require a copy of public liability insurance for all stalls and stands. We will have event stewards, marshals and 24hr security present in the car show arena during the weekend. All show vehicles must be insured as we will NOT be held responsible for any loss or damages during your stay at The Holbeach Car Show.
Q: How do I enter "The Show and Shine" competition?
A: The show and shine competition is free to enter but please apply by completing the form below.
Q: I have applied to enter The Car Show, does that guarantee me free entry?
A: NO, but if you have applied for the Car Show and we accept your vehicle to attend you will be entitled to free admission for the day or days you show your vehicle. You will receive a confirmation email from the event organiser confirming your booking and some further information attached to help you plan your arrival. The free pass will only be issued upon your arrival to the Car Show and proof of our conformation email booking acceptance.
Q: Can I sleep in my vehicle overnight?
A: No sleeping in your vehicles overnight, if you wish to camp your welcome but please purchase the camping passes you require.
Q: If I want to camp over at the festival or have family/friends who want to attend how do they purchase tickets?
A: If you wish to camp over or have additional family/friends members they must purchase the appropriate tickets as a paying guest of The Holbeach Music and Beer Festival here
If you would like to display your show vehicle, apply for the show and shine competition, request autojumble stall or trade stand please complete the application form below and attach a vehicle image if possible.
* PLEASE DON'T APPLY FOR A FOOD OR DRINK TRADE STAND AS THEY ARE NOW FULL *
---
APPLICATION NOW CLOSED FOR 2019
(We are fully booked)