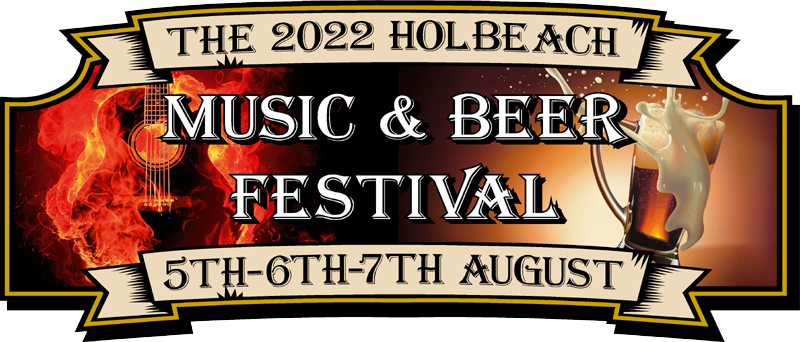 Camping
CAMPING TERMS and CONDITIONS
You can bring a limited amount of alcohol into the Campsite but NOT into the main event arena. ABSOLUTELY NO GLASSES OR GLASS BOTTLES PERMITTED but you are allowed to bring ONE of the following options (per person 18+) for the duration of your stay:


12 x 440ml cans of lager/cider/beer

OR

12 x 250ml cans of premix spirit drinks

OR

3-lirte box of wine

OR

5 litres of cider/lager/beer in plastic bottles or cans

ALL CAMPING PITCHES MUST BRING A 600G FIRE EXTINGUISHGER. On arrival (entrance A) you will be greeted and assisted by campsite staff then directed into position, but please keep the access road between rows clear for others to use.
PLEASE REMEMBER WE HAVE A STRICT 'NO ANIMAL POLICY' AT THE VENUE INCLUDING THE CAMPSITE.
NO GENERATORS allowed but electric hook-up is available at an extra cost.
ONLY PAID CAMPERS ARE ALLOWED IN THE CAMPSITE AREA - NO GUESTS.
Holbeach Music and Beer Festival Campsite is available to all but under 18's must be accompanied with paying adult who will be responsible for them during their stay.
Every guest MUST have purchased an E ticket for entry which will be exchanged for the appropriate wristband upon your arrival, if your lucky enough to look under the age of 25 (or any of your party) ID will have to be provided before we can issue you (or your party) a Adult wristband. If you can't provide valid identification when asked, you will be asked to leave the site and return with your ID - No ID means No Adult wristband can be issued. This is one of our licensing control measures to assist the bar and security staff with alcohol sales.
Valid forms of ID include:
an in date photographic driver's license or provisional licence.
a valid passport.
No photocopies nor out of date ID will be accepted.
Holbeach Music and Beer Festival Campsite opening/closing hours:
Open: Friday 6th August 2021 at 12:00hrs.
Close: Monday 9th August 2021 at 12:00hrs
The campsite wristband will allow you access to the campsite over the period of the festival. We close the road access campsite gate at 21:30hrs daily and no further campsite guests will be allowed access for that day, the campsite will have a curfew time at 0100hrs so please respect your camping neighbours. No additional sound systems to be played during the festival and after the curfew time of 0100hrs. We will have festival staff and Security on site at all times checking wristbands so please make sure you keep yours visible at all times. Any persons without a camping wristband will be presumed to be a non-paying guest and asked to leave the campsite. Included in your camping ticket you will have: luxury showers with changing rooms, toilets, charging points/sockets, lighting, 24hr security, fire point, elsan tipping point (chemical toilet disposal units) and the option of electric hook-up (extra cost).
Campsite tickets do include free car parking and we allow you to park your vehicle next to your camping pitch for security of your possessions. Please note that you will not be permitted to sleep in any car on the site. Pitch sizes are all approximately 8m x 8m.
Please note that you are not allowed to leave the car park in your vehicle until you are ready to leave the site completely and not return. It is strongly recommended that your car remain parked until you are prepared to vacate the campsite.
The Campsite is situated on the same field as the festival, so hopefully you will be happy and enjoy the full festival experience without the need to leave site. There is a FREE shuttle bus service running between the festival venue and Holbeach town centre for guests to use (approximately 10 mins drive). Your campsite wristband allows you to come and go as many times as you like and will operate between the event operating hours schedule.
NO OUTSIDE ALCOHOL IS ALLOWED INTO THE MAIN EVENT ARENA
We are fully licensed to supply alcohol and one of our control measures built within our Premises Licence includes 'Challenge 25' which means if your lucky enough to look under the age of 25 ID will have to be provided before we can serve you alcohol. Only alcohol purchased from the main festival bar may be consumed in the main venue arena. Your welcome to bring soft drinks in plastic bottles but absolutely NO GLASS on site.
Alcohol will not be allowed onto the shuttle bus service or brought into the Holbeach Music and Beer Festival, there are plenty of bars available.
Holbeach Music and Beer Festival venue and Campsite is for nice people and is about having a good time. Anti-social behaviour will not be tolerated and you will be ejected without refund from the campsite and the festival.
All tickets will be exchanged for wristbands on arrival at the entrance to the campsite (subject to Ts and Cs). Once wristbands have been issued and put on tampering, swopping, removal of, etc. will not be tolerated and those found doing so will be asked to leave the Holbeach Music and Beer Festival Campsite.
Ticket holders may be searched on entry to the campsite and to the festival. If you are in possession of illegal substances The Police will be informed and you may be arrested.
We're happy for groups to camp near each but we politely ask that people are considerate and not to set up overly large "camping areas" to ensure everyone has enough room to enjoy the campsite and all have a fair amount of space.
If you are ejected from the Holbeach Music and Beer Festival Campsite, you will also forfeit your attendance to the main Holbeach Music and Beer Festival venue and vice-versa.
Only small knives are allowed onsite for use in cooking (e.g. table knife, small paring knife max 75mm). Anything that may be deemed a weapon will be confiscated.
Fire safety is important. We ONLY allow controlled campfires (i.e. firepits), NO flares, NO fireworks, NO Chinese lanterns, NO naked flames etc. are allowed. Disposable aluminium BBQs are not allowed. Only small purpose built off-the-ground BBQs and camping stoves can be used to cook but please make safe your cooking area.
No pets or other animals are allowed on the festival campsite other than dogs assisting the visually impaired.
The following items are not permitted at the campsite:
Drugs
Any illegal substances such as NOS/nitrous oxide
Weapons or anything that can be interpreted as a weapon
Chinese lanterns
Fireworks
Naked flame torches or flares
Camping gas canisters above 10kg
Generators of any kind
Portable sound systems other than those for personal use
Portable/Chemical toilets
Beanbags
Any glass / glass bottles
Lasers or air horns
Professional recording equipment or drones
Anything else that the campsite security team or campsite management team view as potentially harmful or anti-social.

The Holbeach Music and Beer Festival Campsite will have a perimeter fence line, wristband entry and security on duty 24 hours a day. Visitors leave their belongings at their own risk. It is advised to leave all valuables at home.
The Holbeach Music and Beer Festival Campsite is a field used for many local events and we want to keep it so it can still be used after the festival as quickly as possible, so please help us by keeping it clean and tidy. Please ensure you do not leave anything other than "general waste" in the designated areas - please take all large items home with you e.g. tents, chairs, sleeping bags, re-usable BBQs, etc. Please respect the land.
Travel - Ensure you look into your travel arrangements before you buy your tickets. While we make every effort to help and advise on travel options on our website we cannot give refunds for problems with getting to and from the Holbeach Music and Beer Festival.
Holbeach Music and Beer Festival Camping and event ticket holders give their express consent to the use of their actual or simulated likeness in connection with the production, exhibition, advertising and/or exploitation of any photos, film, video and/or audio recording of this event and/or any element thereof in any/all media throughout the world.
Prior written permission is needed by Holbeach Music and Beer Festival tickets in any sales promotions, media, marketing, reward programmes, staff incentives, raffles, auctions or general competitions. Holbeach Music and Beer Festival is a registered trademark; the Holbeach Music and Beer Festival logo and any related Holbeach Music and Beer Festival artwork cannot be used without written permission of Holbeach Music and Beer Festival.
If the Festival is cancelled, the organisers at Holbeach Music and Beer Festival shall not be liable for any costs or expenses incurred by campsite ticket holders, including but not limited to the ticket cost, transportation and accommodation costs or any other losses of any kind. The organisers reserve the right to change and amend the festival programme without prior notification and cannot be held responsible for acts and headliners who cancel. Refunds cannot be issued if a particular artist does not appear or performs on a different day.
Camping tips
BBQs can cause carbon monoxide poisoning when left in your tent. Never put them in an enclosed space, even after they appear to have gone out. For more info click here.
Campsite stewards have a base in the camping site. Check out where the nearest one is to you. They can direct and advise you, and are first port of call in an emergency - be it a medical or security issue.
It is worth noting where you camp in relation to a numbered Fire Point or other fixed point, or clearly marking your pitch with a flag. It can be a nightmare to find your tent without a recognisable landmark.
Please do not take up too much space when setting up camp. And please, please do not bring a gazebo. They needlessly take up valuable camping space (and there are plenty of more interesting places to sit at the Festival than just outside your tent).
Say hello to your neighbours to build a community feeling and provide greater security. Look after each other and if someone is feeling ill, get help.
Remember that tents are very vulnerable, even zipped up. Padlocks scream "I have something worth nicking in here".
If you're worried about something being stolen, don't leave it in your tent.
Postcode your valuables. UV pens are available at Property Lock-ups.
Bear in mind that the most commonly lost items in the camping fields are keys, wallets, phones and cameras. Please keep them safe!
Be inventive about hiding your money - and don't keep it all in one place.